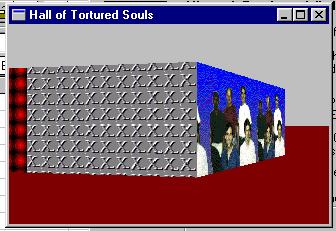 In the Windows 95 version of Excel, if you do a few simple steps in the in Excel you are given a rather disturbing mini-game entitled "The Hall of Tortured Souls..."
How to activate the easter eggEdit
To find the Hall of Tortured Souls just follow these simple steps...
Open up Excel 95 (Only 95 works)
Make a new page
Make your way down to row 95
Select the whole row
Select cell B
Goto Help/About
Hit ctrl-alt-shift on the tech support button
A window should open entitled "
Ad blocker interference detected!
Wikia is a free-to-use site that makes money from advertising. We have a modified experience for viewers using ad blockers

Wikia is not accessible if you've made further modifications. Remove the custom ad blocker rule(s) and the page will load as expected.