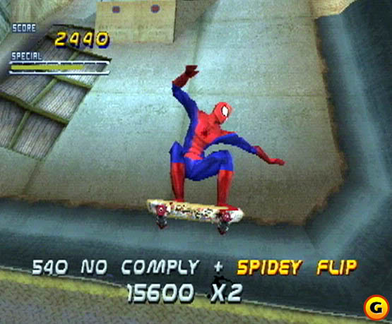 Neversoft developed SpiderMan with their Tony Hawk's Pro Skater engine
Being Spidy gives you the cheats "Moon Jump" and "Perfect Balance"
How to get SpiderMan
Edit
Complete the WHOLE game with a CREATED skater to unlock our friendly neighborhood SpiderMan!
Ad blocker interference detected!
Wikia is a free-to-use site that makes money from advertising. We have a modified experience for viewers using ad blockers

Wikia is not accessible if you've made further modifications. Remove the custom ad blocker rule(s) and the page will load as expected.