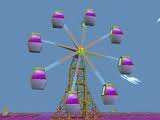 In order to trigger the Ferris Wheel scene, you must transfer to Happy Town and locate the Ferris Wheel, which is relatively easy to find, considering its size.
I believe the Ferris Wheel is a significant object, so it will occasionally appear with a few little rainbow men marching in front of it. Simply bump into one of the on-coming ferris wheel boxes, and it will transfer you to a simple cutscene which consists of your ferris wheel floating up and up into the sky, into space, and so on. The dream ends once the cutscene is done.
When you bump into the Ferris Wheel, your dream on the graph will be very high on the upper section. It is one of the best dreams you can have.
Ad blocker interference detected!
Wikia is a free-to-use site that makes money from advertising. We have a modified experience for viewers using ad blockers

Wikia is not accessible if you've made further modifications. Remove the custom ad blocker rule(s) and the page will load as expected.